Anti-Aging Formula with Vitamins A, C, D & E
"A potent combination of marine collagen and phytoceramides, that help to repair the damage cause by environmental factors as well as damage associated with the aging process".
Rejuvenates Hair, nails and all 4 skin layers, Boost Skin Elasticity, Reduce Wrinkles for Men and Women
"Your skin is made up of 75% collagen, but after the age of 25, collagen synthesis reduces at a rate
of 1.5 % a year and after the age
of 45, your collagen levels may have fallen as much as 30%".
​
Zi-collagen helps increase the amount of collagen and elastin that the body naturally produces, helping your skin to remain in a healthy and young state. Reducing the marks and wrinkles that come with aging, minimizing the loss of elasticity and helps the skin to look smoother and more hydrated.
Its superior absorption and bioavailability penetrate all four layers of the skin. Letting the skin to lock moisture for better repair, healing and nourishment.
✔ Diminishes fine lines, dark spots and wrinkles ​

✔ Tightens saggy skin ​




✔ Increase skin elasticity and firmness​


✔ Hydrates and moisture
✔ Helps reducing dryness and redness​​


✔ Supports reducing signs of skin aging




✔ Reduces bags under the eyes




✔ Keeps your hair, skin and nails healthy
"What our customers are saying"
Where is Zi-collagen manufactured?
---
Zi-collagen is manufactured and rigorously tested in a state of the art facility in California, USA.
---
How long will it take for my order to arrive?
---
We ship via USPS the same day or the day after and it takes 5 to 7 business days. After we ship you will receive an email with the tracking number.
---
How many capsules should I take per day?
---
Take 1 capsule daily with a glass full of water
---
How big are the capsules?
---
The capsules are size 0, they are easy to swallow
---
What is the best time to take Zi-collagen?
---
You can take it at any time.
---
Is Zi-collagen for men as well?
---
Yes, it is for men and women.
---
Does it have side effects?
---
No, it does not have any side effects.
---
What is the source of Marine collagen?
---
The source of Marine collagen is Wild-caugh North Atlantic fish (Cod, Pollock and Haddock).
---
Does it have an aftertaste?
---
No, it does not have an aftertaste.
---
What if I am not satisfied with my results?
---
While most of our customers see significant results, we realize that our product may not work for everyone. If you purchase multiple bottles and you are not satisfied, simply contact our support team within 30 days. Someone of our friendly staff will tell you how to return the unopened bottles.
---
Can I see the ingredients?
---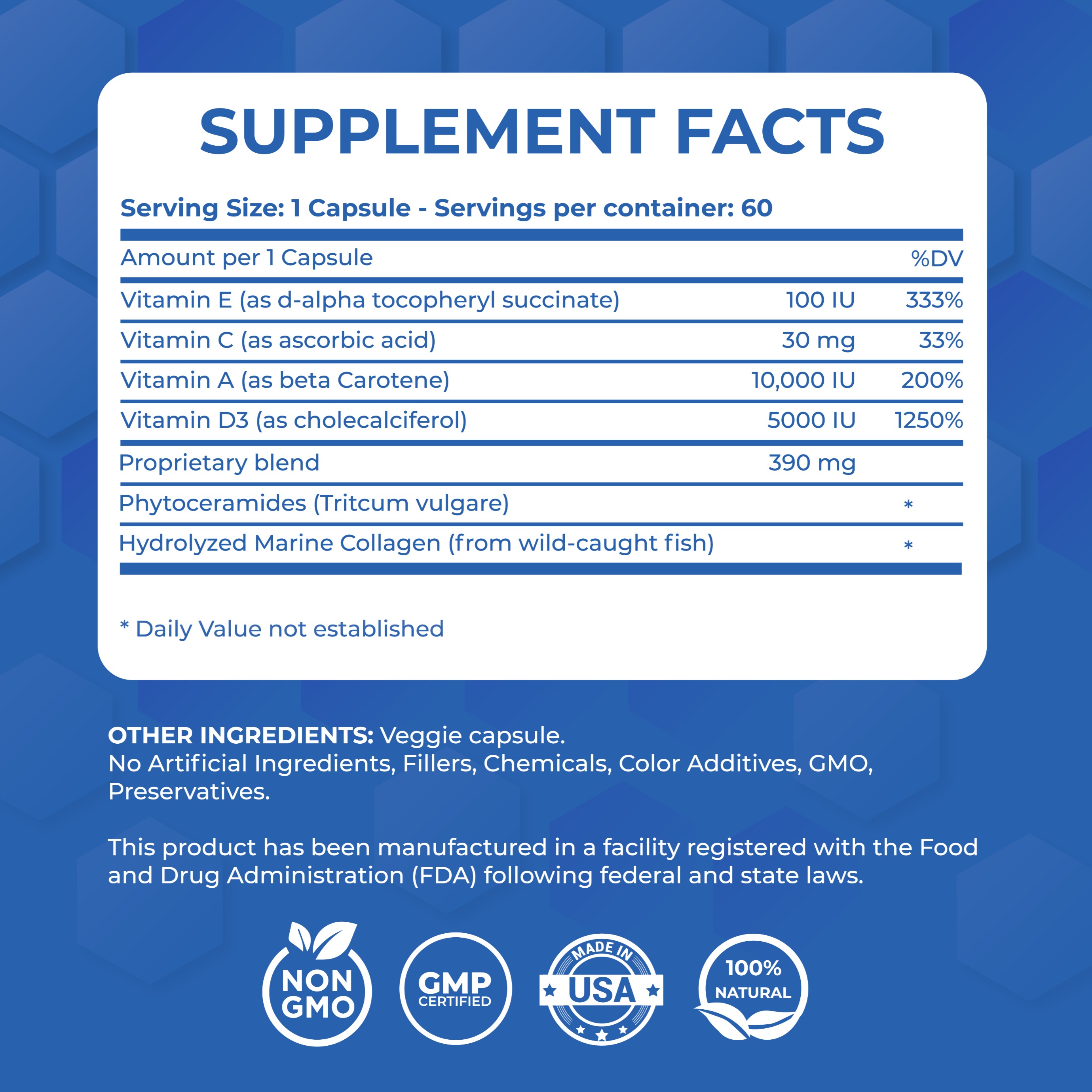 ---
---